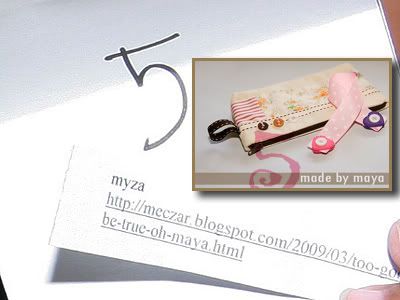 Tak percaya?? Saya pun cam tak caya jer. Tapi, betul ar.. sayalah pemenang bertuah untuk hadiah tempat ke-5.
Penyertaan
saya yang merapu itu rupanya berjaya menambat hati
Maya
Melly & Elman. Teruja nih. Tak pernah menang pape contest... Alhamdulillah dapat rezeki terpijak hari nih.
Terima kasih tak terhingga untuk Maya, sebagai penghargaan saya letak link Maya di sini yer. Mudah2an makin murah rezeki Maya.
Manalah tau kot2 saya jadi WAHM nanti (
skang tak mampu lg nk bahagikan masa
), bolehla jadi part of the community.
Terima kasih sekali lagi.
p.s. : Sol, terima kasih untukmu juga sbb bagi jalan. Kalau Sol tak masuk contest nih, saya pun tak kenal mycrazyartzone.com
p.p.s :
Fid
, meleleh tak air liur? Jangan bi*l tau ;-P